The TCC Board of Directors, at its December 10, 2012, meeting, appointed JoAnn Schwartz to fulfill Tim Carlson's term on the Board of Directors. She has been attending the last several TCC board meetings and Southern California lunches and is a regular attendee at the San Francisco-area luncheons.
Tim Carlson will remain as Area Coordinator for the Northern California area, which alternates its meetings between San Francisco and Berkeley the Saturdays before the luncheons in Southern California.
Born in Evanston, Illinois, he received his BSIE degree from Northwestern University and his MBA from Stanford in Palo Alto, California. The majority of his career was in high tech, primarily in financial management. He retired in 1993 as President of a medium-sized company.
Tim began traveling at an early age with his parents. As a teenager he lived overseas on three occasions. He traveled frequently on business. He joined TCC in 1986 and completed all the destinations that were on the TCC list in 2006.
He lives with his wife, Jeana Hurst, in Healdsburg, California. They have two grown children. (Wrap copy around thumbnail photo with his name in italics centered underneath.)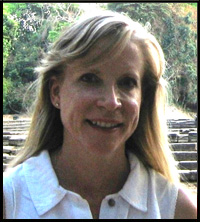 JoAnn Schwartz was born in York, Nebraska, but grew up in Boulder, CO, where she earned a degree in finance from Leeds School of Business at the University of Colorado. She moved to the West Coast following graduation, living in San Diego and Seattle before settling in Los Altos in Northern California. She works in software engineering and project management for finance and high-tech companies.
She had the travel bug early with childhood dreams of a vacation in "faraway places" like Oregon, or a "once-in-a-lifetime" trip to Hawaii. JoAnn says every trip was a highly anticipated event, whether visiting relatives in nearby states or bumping over mountain roads to see old mining towns in Colorado.
When she entered the workforce, international travel started to become an option. An article about the TCC in the Wall Street Journal changed the parameters on what seemed possible in travel and greatly influenced her subsequent journeys. Every vacation and business trip began to include nearby locations from the TCC List of Countries. A trip to Singapore was extended to include parts of Indonesia; a trip to the UAE included Yemen; a trip to Mauritius was expanded to include Rodrigues.
Though susceptible to seasickness, she has a special interest in the additional challenge of exploring remote islands. Some of her more remote island visits have included Howland, Baker, Jarvis, three of the Phoenix islands and Kingman Reef.
JoAnn's other interests include cooking, gardening, hiking, and the performing arts.