Congratulations Scott! With over 60 photos to choose from, yours received the highest rating among members. You've not only brought honor to the Atlanta chapter, but you have won a year of free dues for yourself. Thanks to everybody who submitted their wonderful "India" theme photos for the September contest. They can still be seen and commented on by visiting https://pollunit.com/en/polls/tcc-2021-september.
The theme for our December 2021 contest is "A view from above." Click for contest details »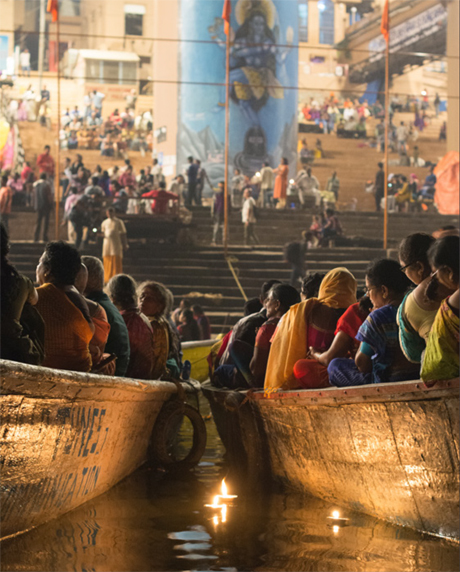 While on an evening cruise down the Ganges River to witness cremations at the Manikarnika Ghat, I took this photo of the famed Dashashwamedh Ghat. This draws pilgrims to partake in the Ganga Aarti ritual which uses fire as an offering. Three small diyas (lamps) with a candle and a flower are seen floating down the Ganges River as an offering to the Goddess Ganga. The photo's vantage point was from our low-slung boat overlooking numerous boats. Needless to say, the evening was the culmination of a day's worth of sensory overload. Varanasi's sights, sounds, scents, tastes and feelings from gliding down the serene Ganges River are indelibly etched in my memory.
HONORABLE MENTIONS
Jay Katz, Tumon, Guam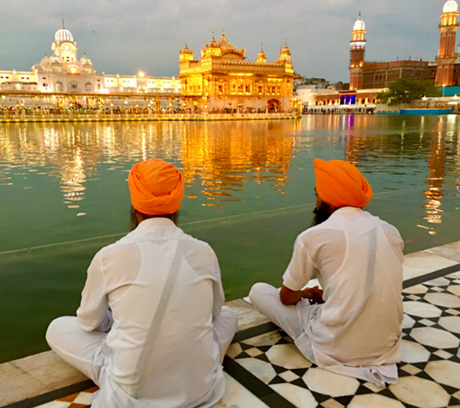 Two Sikh gentlemen enjoy the evening breeze and a peaceful moment at the Golden Temple in Amritsar, Punjab state. Also called Harmandir Sahib, this temple is spiritually the most significant shrine in Sikhism.
---
Steve Owad-Jones, Calgary, Canada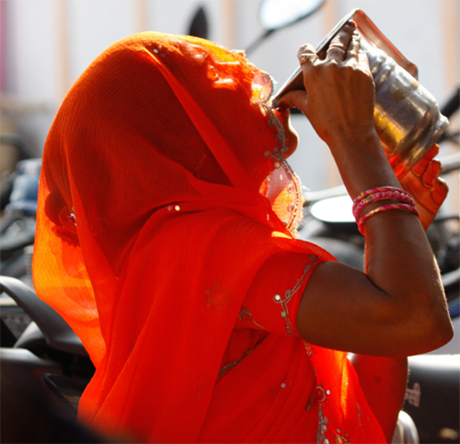 Amidst the riot of color, noise and smells of the Pushkar Camel Fair, this Rajasthani women caught our eye. Receiving a pitcher of water from her friends, she has mastered the art of tipping the pitcher into her throat without any lip contact.