Dylan Pond, Philadelphia, Pennsylvania

For the past four years, I've traveled mostly overland. Renting vans or camper trucks for a few weeks, driving through regions, has delivered fond memories like living in a van and surfing everyday up and down the coast of Japan.At 26 years old, I go to law school, work full- time, and still manage my travel ambitions. By the end of the year, my sights are set on 100 UN countries (currently 80 UN/111 TCC) as I look forward to driving through the Balkans in May and exploring Angola, ROC and DRC later this summer.
Being in the club allows me to learn from other members who have traveled more extensively and can share about places, culture and modes of travel.
Dirk Hannemann, M.D., Witten, Germany
t the age of 12, I explained to my parents that family holidays in Austria wouldn't do it for me anymore and I intended to see the elephants of the Serengeti. They laughed! 35 years later, I finally sat in a safari tent, listening to the lions inspecting it.
When I turned 19, I bought a motorbike to cross Africa from Morocco to Cape Town. To the relief of my relatives, border closures and political unrest in western Africa stopped and redirected me to peaceful Australia.
Maybe it was luck? Or my planning improved? Since then, I've visited 120 TCC destinations — most with my wife, Sabine. Next up is the Malta conference and hopefully going back to Kolkata to work for German Doctors, caring for the poorest of the poor.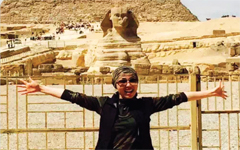 Jin Liu, Los Angeles, California

Call me "Jinzi" in Chinese or simply "Jin" in English. Born and raised in Harbin, China, I'm half Korean and half Chinese — for better or worse, I typify a girl from Northeast China.
Nearly two decades ago, I moved to the United States to teach Chinese language and culture at the college level. I love my job as a tenured professor and find the classroom atmosphere heavenly.
From music to painting, I have many hobbies, but travel is my passion. While traveling with my significant other, I feel liberated as we see the world's farthest corners. Becoming a member of TCC is a dream come true as I have been working on this for the past 20 years.