WHY MALTA?

Guest: Michelle Buttigieg

Born to Maltese parents, Michelle moved to Gozo when she was three. Based in New York, she is the representative for the Malta Tourism Authority. She is pictured with Steve Owad-Jones and Robyn Antill at Ta Frenc Restaurant.
The sunny islands of Malta, in the middle of the Mediterranean Sea, are home to a most remarkable concentration of intact built heritage, including the highest density of UNESCO World Heritage Sites of any nation-state anywhere. Valletta, built by the proud Knights of St. John, is one of the UNESCO sights and was named the European Capital of Culture for 2018. Malta's patrimony in stone ranges from the oldest free-standing stone architecture in the world, to one of the British Empire's most formidable defensive systems, and includes a rich mix of domestic, religious and military architecture from the ancient, medieval and early modern periods.
With superbly sunny weather, attractive beaches, a thriving nightlife and 7,000 years of intriguing history, there is a great deal to see and do.
THE VOTE
At the 2018 Barcelona conference, members in attendance were asked to name cities they thought could be an ideal conference candidate. Nine cities in total were named as contenders by the more than 60 members in attendance.
The TCC board had the arduous task of deliberating about the merits of each city; thus, the list was narrowed down to include Bangkok (Thailand), Dubai (UAE), Brisbane (Australia) and Valletta (Malta).
At one point, it seemed as though Brisbane might be the race favorite with most of the Board and Mediterranean members lobbing their votes behind the Queensland capital. However, more than 200 members voted to show a 49% support for Malta.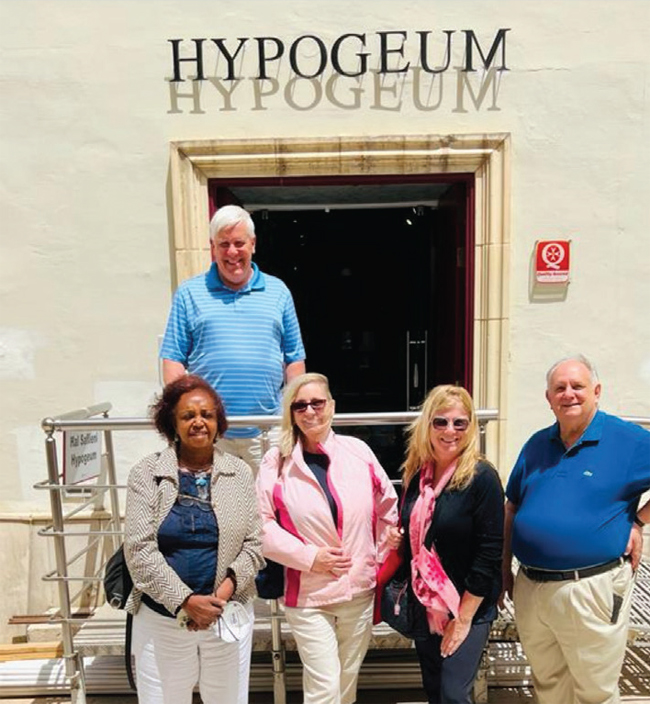 PRE-MALTA TRAVELS
Prior to their arrival in Malta, many attendees used the convenience of the region to explore other countries and territories in the days and weeks leading up to the event.
From Sardinia to Sicily, Corsica to Lampedusa, France to Italy, members did as much as they could to explore the richness of the region and to build a side-trip onto the conference. Olivia Pokras-Carter took to the Camino in Spain and spent 10 days walking over 110km. Wow!
The islands of the Mediterranean were the most popular for travelers as the sights around Bonifacio and Agrigento provided a historical learning opportunity and the tourism-blessed trails of the Amalfi Coast, La Cinque Terre and Greek Isles left members smiling with the culture and cuisine of the region.
Members started to connect early in Malta, and a popular tour for members to register for was the Hypogeum. Through connections made on the WhatsApp thread, members were able to say, "Hey! I'll join you if there is space," and that seemed to be a common theme at Malta. Members sought to travel together again!
WELCOME TO MALTA

Guest: Chiara Ellul

Chiara is the Director of Sales and Marketing at the Malta Marriott.
We are truly delighted to have welcomed the Travelers' Century Club to the Malta Marriott Hotel and Spa this May 2022 for their esteemed event. Only meters from Balluta beach, we are located alongside the tranquil seafront promenade within the bustling, cosmopolitan St. Julian's town.
It was such a privilege to have so many well-travelled guests choosing to stay with us, especially one traveller who is 88 years old, Audrey Walsworth, and hope that during their visit to our islands they managed to explore some of the great attractions Malta has to offer, whilst experiencing true Maltese hospitality.
POST-CONFERENCE
As true travelers, we couldn't just leave Malta without seeing other sights, right? We had to continue exploring and having made new friends, some of us continued to take Hagar Oim and Blue Grotto tours as Alice Chin, Mui Ha and Lucinda Hayden did. Virginia Mullin returned to Gozo to explore more.
COVID-19 travel restrictions limited pre-Malta country choices, but following the conference, members of the Board and Mediterranean members Melanie Thomas Armstrong and capital. However, more than 200 members guest lhita Kabir, as well as member Ed Hotchkiss and guest Khadija Musa, left for Tunisia to check out the North Africa jewel. (We look forward
to an Info File.)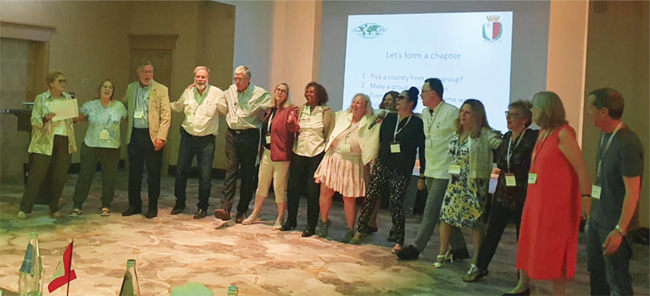 CONFERENCE DAY
Tim Skeet, Board Member
Members enjoyed the pre-function area with a coffee mingle. Greeted with banners from the 2018 Barcelona event, dry-erase maps to discuss travels, and a registration table to receive tent cards for activities, the tone was set for a day of learning.
An opening video energized attendees, and then I explained the intended meeting format of 15-minute presentations and activities. (Special thanks to Dianne and Steve Owad-Jones for working with each presenter.) We proceeded to empty our grab bags like kids on Christmas morning. Filled with practical goodies to use throughout the conference and beyond, these were inspired by Lana's and my travels. Snacks, a compact travel bag, de-stressing oil, special Maltese honey sourced by Dianne and Steve, and even a pocket-reference TCC list ready to share with travelers who inquire about the club, were all stuffed in a TCC-branded airplane barf bag — my mom would have thought that to be very practical.
President Steve Fuller opened as our first speaker as he shared a personal story from his travels and introduced our first round of speakers.
Member Dorota Wydro from Poland delivered a personal and compressed itinerary of her 7-day trip through the Balkans. Much information was provided by her first 15-minute presentation.
Next up, member Jerry Allen from Florida, USA, shared photos from his trip to Iguazu Falls highlighting the flora and fauna of the region.
Member Gina Morello from Dallas, Texas closed out the segment by discussing her move to Tbilisi, Georgia, and providing a blueprint on how to move abroad.
Coming back from our break, Vice President Margo Bart introduced the activity and presenters in the next session.
A quick activity, allowing members to stretch their legs, placed them in "country/territory" groups to get to know each other, appoint a captain to then introduce each other to their adjacent team. The exercise aimed at showing how meet-ups are important to club growth.
Nicola Coratella from Spain then spoke about Azeri-Karabakh and his trip through the region with Harry Mitsidis.
Closing out the the morning session was David Langan from Ireland who collaborated with our recent Virtual Explorations presenter, Dr. Robert Headland, to present on accessing Antarctica's seven divisions.
Following a hearty lunch at the Marriott, treasurer Jeff Houle introduced the lineup for the first half of the afternoon session.
The presentation from the board came from board member JoAnn Schwartz, who delivered board member Christopher Hudson's, "The Case for a Country." JoAnn offered clarity (which often attracts some dispute) on how the board reaches decisions on the addition of countries and the reluctance to move non-qualifying countries off the list — the reason why some territories like Åland Islands and Sikkim are grandfathered to Rule 7 right now. With an overlap in discussing the divisions of Antarctica, David Langan was welcomed back to the stage to answer some questions.
Needing to stretch our legs again, the afternoon activity connected four country groups from the morning. After choosing a leader, attendees selected one of the chapter/territories they represented from the morning activity to create an impromptu presentation. Delivered to all members, from serious Syria to charming Cuba, attendees were entertained by these five presentations. The activity gave every attendee a chance to have their voice heard, share their knowledge, entertain everyone, while demonstrating the value of TCC chapters and supporting coordinators. Team Argentina truly stole the show with their creative and hilarious tango and football  (soccer) skit, and closed with Evita's "Don't Cry For Me Argentina." Great fun!
Diamond member, Hongyu Yang finished the first afternoon session with her presentation on Pitcairn Island — providing sound logistics and costs to help members prepare for a trip to the island.
by Dianne and Steve, and even a pocket-ref-
Coming back from a lengthy last break, board member Stefan Krasowski introduced the last round of speakers beginning with his "Interview with a diamond." It was a conference highlight for many as Audrey Walsworth, widely regarded as the first woman to complete the TCC list and see all 193 UN countries, captivated the attention of all attendees with her stories of struggle, perseverance and positive mental attitude in her approach to seeing the world.
A tough interview to follow, but member Olivia Carter-Pokras' presentation captivated attendees. She spoke on the indigenous cultures situated in the Amazon rainforest of Bolivia and how she connected her college students to the region.
Member Jane Eagleson closed out the presentations with her experience in Somaliland — attendees couldn't get enough of what was said and were enthralled by her photo-diary.
Unfortunately, time was tight to ask questions, but members had time at dinner to connect with presenters.
With all photo contest finalists present at Malta, the session closed with an intense video presentation recognizing Armin Schreiner as the winner.
SOCIAL GATHERING
The Malta conference might have been scheduled to officially begin on Friday, May 6, but most attendees showed up for the early hotel. With a youthful vibe in the restaurant, platinum and diamond members showed arrival dinner on Thursday, May 5, and many others connected ahead of the conference to start touring around and going out to dinner. The Malta WhatsApp thread immediately formed connections and members continue to stay engaged after the conference.
Getting started on Thursday, May 5, Lana Skeet and Dianne Owad-Jones arrived at the desk minutes before 4:30 pm to set up for the conference check-in and already, eight members were eagerly waiting to sign in. With a quick review of registered conference activities the attendees signed up for, Lana and Dianne provided a name tag, conference itinerary and a TCC Malta polo shirt to those who pre-purchased one.
Then the connections immediately began. Yvo Peeters sat with Diana Trombley, while Richard Friese stood with Ramin Shafagatov — members circulated and were comparing travel notes.
We then left for dinner at NAAR Restobar which was conveniently located across the street from the Marriott hotel. With a youthful vibe in the restaurant, the mood was cozy and the Central European chapter established their ground early in the conference by being the first group to close down the bar at 3 a.m.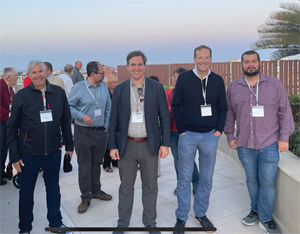 Following a day of touring, a welcome drink was enjoyed on the Marriott Hotel's exclusive rooftop space overlooking Balluta Bay.
While we intended to enjoy an al fresco dining experience, the windy Mediterranean made for a chilly evening and we made a quick decision to move the BBQ dinner to the breakfast dining room where we enjoyed exclusive space to comfortably mingle and start actively "dotting" a map brought to the conference. Members took turns marking their travel accomplishments and signing the map. It soon became saturated once the platinum and diamond members showed the places they have traveled to.
This created fun, while the free-flow of wine and beer this evening catalyzed many more new friendships which navigated to the hotel lounge.
Following a walk through Mdina, the gala dinner on Saturday night was held at the beautiful Bacchus Restaurant in Mdina. Achievement presentations were made by President Steve Fuller to Alice Chin Mui Ha (diamond), Wen-Hung Kuo (platinum), Robyn Antill (silver) and Biorn Watne (silver). There was great fun this evening as the map was raffled off — Debbie Allen from Dallas, USA drew Dianne Owad-Jones' name.
The final dinner was held at Razzett-Antik cultural restaurant, which is in a 200-year-old building. Many members regarded this evening and experience as one of their favourites, with dancing and singing performances together with local fare.
MALTA THREE-CITIES TOUR
Have you ever been escorted to lunch by a marching band? Band culture is important in Malta and this was one of the special experiences enjoyed by members on the tour.
On the three-cities tour of Bormla, Birgu and Senglea, bus #3 started our trip at St. Theresa's church. Greeted by organ restorer, Robert Buhagiar, we received a simple course in organ restoration. Robert then introduced us to Fra. Alfred, Superior of the Priory, who guided us through special parts of the attached living monastery.
Our group then proceeded to the Inquisitor's Palace which is the only such palace in the world open to the public. Built in the 1530's, this served as the law courts until 1574 when it became the tribunal and prison of the inquisitors whose task it was to find and suppress heresies.
Our final tour stop took us up the ramparts at Fort St. Angelo where we were greeted at St. Anne's Chapel by Professor Dane Munro of the Sovereign Military Order of Malta who introduced us to Malta's last remaining Knight of St. John, the Grand Chancellor, Fra. John Critien. His Excellency provided a brief history of the chapel, a history of the Order, and beyond his vows and divinity, his humanity shone through with a warm. kind and humorous greeting to us. Fra. John invited us back to the nymphaeum outside his residence where we enjoyed more conversations together and thoroughly enjoyed his wisdom.
GOZO LAND TOUR
The Gozo tour started with a splash! Okay, they weren't the hydrofoil boats we were expecting, but we did switch out for better boats on the return. David Battey laughed the entire time as his sport coat got drenched.
Fortunately, a sunny day allowed everyone to dry up quickly as we ventured up to Calypso's Cave, believed to be referenced in Homer's Odyssey, overlooking Rama Beach.
The intrepid travelers then proceeded to the Ggantija Temples, a UNESCO World Heritage site built between 3600 and 3200 B.C.. They were rediscovered in the 19th century.
A bountiful lunch awaited us at the stunningly positioned Ta Frenc restaurant where we had serendipitous meeting with Michelle Buttigieg of Malta Tourism.
A short stop to explore the area around the Citadel allowed us to stretch our legs before our return boat trip to Malta.
WRAP UP AND THANKS!
Canceled once and rescheduled again for 2022, this was not an easy journey — not only for those of us who planned it, but for any of us who attended it or had to unexpectedly cancel.
Designed to host 150 members, the conference peaked at that number with 20 persons on a wait list in late December 2021. Once the numbers settled, 120 members and guests from over 20 countries in four continents united together in Malta.
Not only is this impressive because of the war and pandemic variants, but 120 is double the number of those who attended the 2018 Barcelona conference. Thus, making this the largest known event in TCC history and one of the largest gatherings ever of global travelers.
A conference evaluation was distributed to all attendees. This alone reveals that the event was a success, but I gauge my assessment by looking through a different lens. That is the one where we see the smiles, we hear the sound of laughter, and we know there is a continual yearning to stay engaged. Yes, this was an overwhelming success!
Members were ready to travel and make genuine connections. Brilliant memories were created which will last with us for a lifetime. You've given us the reason to plan and look forward to parts at Fort St. Angelo where we were awaited us at Richard Moody clinks glasses seeing each other again in 2024 or sooner.
NEXT GLOBAL CONFERENCE?
Members who attended the Malta conference have the privilege of nominating] destinations to host the next conference in 2024. Tim will collect all nominations and make recommendations to the board at the June meeting. Criteria for choosing the four finalists will come down to air service, conference facilities, connectivity to other TCC destinations, and especially, popularity with members at the Malta conference.
Once the four possible destinations are determined, an electronic vote will be distributed to the membership through email Tim will make another recommendation to have a vote similar to the Olympics by eliminating one at a time.
Stay tuned. The winning city will be announced in the December Centurian, giving you an entire vear to plan for it. Get ready to vote this summer on 2024!