Congratulations David! With 50 photos to choose from, yours received the highest rating among members. You've not only brought honor to the Pacific Northwest Chapter, but you have won a year of free membership for yourself. Thanks to everybody who submitted their wonderful "religious buildings" theme photos for the March contest. They can still be seen and commented on by visiting https://pollunit.com/en/polls/tcc-2023-march.
The theme for our June 2023 contest is "City Life." Click for contest details »
On top of most travelers' "must see" list when visiting Bhutan is Paro Taktsang. The famous "Tiger's Nest" monastery is perched precariously on a sheer cliff 900 meters above the valley. Hidden from view for much of the 3-kilometer hike up through the forest, and ascending a bit over 500 vertical meters, the monastery views are a well-earned reward and good excuse to stop to catch your breath before entering the complex for a visit.
HONORABLE MENTIONS
Sherri Donovan, Oyster Bay, New York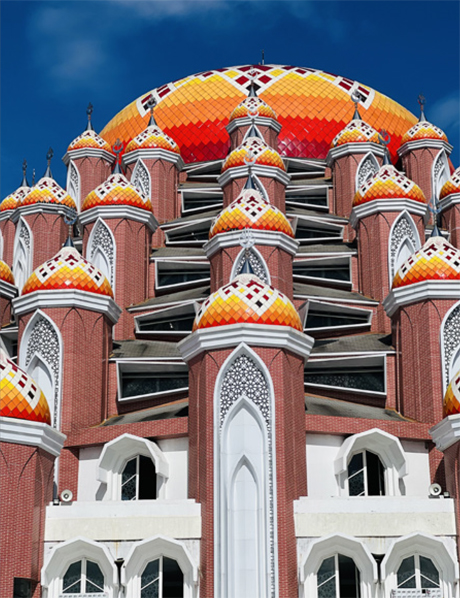 The Asmaul Husna 99 Dome Mosque, located at the center point of Indonesia in Makassar, South Sulawesi, has 99 orange and white domes designed to resemble the buds of flowers. Winning the Abdullatif Al Fozan Award for best Mosque architecture, Bandung Mayor Ridwan Kamil is architect, engineer and former governor of West Java.
---
Megha Chokshi, Oak Hill, Virginia
Black-and-white striped arches, colorful murals of saints and sinners, and high snow-capped peaks abound at Bulgaria's Rila Monastery. A UNESCO World Heritage Site, this monastery is said to have preserved the Bulgarian language and culture during the Ottoman rule, and is known as being one of the hideouts of Bulgarian revolutionaries.