Our TCC members are still running marathons around the world, combining their passion for travel with this energetic sport, giving them an additional avenue of interest. In previous articles we have featured these marathon runners: Gloria McCoy, Ed Sylvester, Rick Shaver and Steve Fuller. We feature two more below.
Jenny McIver of Atlanta ran her 14th marathon in 10 years in Honolulu last December. She enjoys that race and has done it several times. She has also completed marathons in Rio; Mont Blanc, France; Marrakech; Toronto; Calgary and Alaska. She tries to work races into her travels whenever she can.
Jenny is a small business owner and frequent business traveler. She says that 10 years ago she read an article about a man who took a year-long trip around the world and it changed her life. "I'd never heard of anyone doing that and I was hooked," she says. "Career-wise I couldn't do a year but I decided to use my FF miles to book a round-the-world ticket and I took a month-long trip. It has since become an annual adventure and I began blogging about it in 2008. It has become kind of a side business/labor of love."
After completing her ninth RTW adventure in January/February this year she reached the 150 TCC milestone. While visiting and writing about her travels, she has maintained a fulltime career. She is a self-employed event planner and an operations producer for ESPN. "My goal is to be that spark and wanderlust inspiration for others by proving that you can fulfill your wildest travel dreams without quitting your day job," she states. "Today's online travel booking sites make coordinating the myriad details of a RTW trip easier than ever," she continues. "You don't need a travel agent, you just need a dream and a plan."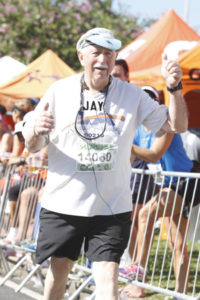 She has published a book, "The Grown-Up's Guide to Globetrotting; Round the World in 30 Days." Some of her favorite places are Greece, Thailand, South Africa, Easter Island, Moorea, New Zealand, the Cook Islands and Antarctica.
Jay Foonberg of Beverly Hills began running at age 56 and did his first marathon on a bet which he lost. "That was 1992," he says, "and I am now 78 and have run 36 full marathons and many half marathons in and out of the U.S.
"I have been to about 175 countries but adding names was never my goal," he continues. "I traveled because I like to get off the beaten path and go to places for both business and pleasure."
Jay has been to Antarctica four times, once as a guest of the Chilean Air Force and three times to run in marathons. He has also run marathons in London, Paris, Berlin, Rome, Venice, Dublin, Stockholm, Singapore, Macau, Nairobi, Bermuda, Santiago, Rio de Janeiro, Jerusalem and many other places in the U.S.
He is an attorney and CPA, has received several awards, and has written numerous books about law, trust accounts and related endeavors.