Congratulations David! You've won a year of free dues! The theme for June was "children." Thanks to everybody who sent in their wonderful photos. The theme for our September 2020 contest is "My Hometown/Backyard." Click for contest details »
As I took this photo near the Mingun Bodawpaya Pagoda in Burma. After viewing the pagoda on a tour to Myanmar on October 2, 2013, I saw these young monk children enjoying ice cream cones in the back of a pickup truck. The picture means a lot to me because I had just seen them in front of the Pagoda where they were posing for a group photo, and now just minutes later from such a religious setting, they were huddled in the back of a pickup truck, enjoying ice cream like any other children in the world. It reminded me that we meet people on our travels that are different from us, but we still share many of the same rituals and delights.
HONORABLE MENTIONS
Laura Lorman, Sunnyvale, California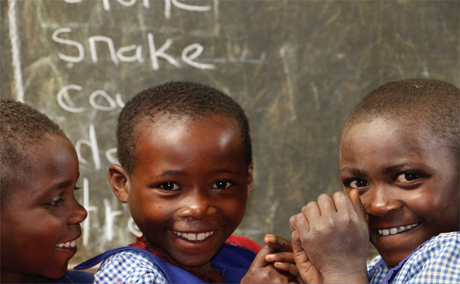 While visiting Uganda we stayed at Lake Bunyonyi and took a day trip to visit a Pigmy village that was at the other end of the lake and up a steep climb to the top a mountain.The village had a grade school which we were invited to see and one of the classes we went to was an English class where the students were shy at seeing us but soon started to laugh and giggle as they practiced their lesson in front of us. It is one of my favorite memories of Uganda.
---
Knut Jostein Berglyd, Oslo, Norway
Pure burst of energetic joy and excitement rewarded me for playing with these kids in Massawa, Eritrea. This mystified and dilapidated seaside port, makes for a startling contrast to the kids innocently playing among the ruins.