Congratulations Tom! You've won a year of free dues! The theme for June was "Your Backyard." Thanks to everybody who sent in their wonderful photos. The theme for our September 2020 contest is "Music." Click for contest details »
I live in a lakeside condo in Orlando where residents are blessed with a splendid variety of wildlife inhabiting the eight acres that surround our building. I see birds, reptiles and small mammals every day. It brings me great satisfaction to drive on to our property after work each day, and experience a brief micro-safari right here in my own backyard! The short drive to my garage generates memories of other wildlife in other countries, as the Florida creatures serve as living mnemonics that transport me back to pleasant travel scenarios in other lands, like the waterhole at Treetops Hotel in Kenya, or the elephant treks at Chitwan in Nepal, or the gentle flowing waters of the Okavango Delta in Botswana.
HONORABLE MENTIONS
Alla Campbell, Greensboro, Georgia
One of the things I love about travel is seeing the culture and wildlife all over the world. It was disappointing to be "stuck" in one place. I soon realized, however, that I can sit in my kitchen or be outdoors in my yard and admire the beauty of my surroundings and feel much joy in watching the birds in their springtime and summer rituals of singing and raising families. The purple finch feeds his young. Could you ask for
anything more?
---
Charlie Fox,  Richmond, Virginia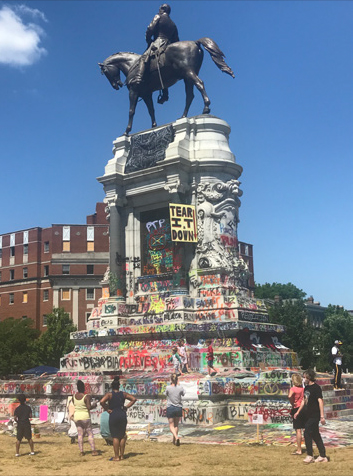 After being considered god-like in my hometown of Richmond, VA, Robert E. Lee and his statue are under daily assault from protesters who want to erase all vestiges of Civil War racism. Our governor has declared that this 130-year-old statue of Lee will be removed ASAP. It's a new day here in the Old Dominion.