Use this form to purchase TCC pins and name tags, which are available exclusively to full members of the Travelers' Century Club®. After selecting the item(s) you want to order, click the checkout button in the shopping cart to complete your payment. All amounts are in U.S. currency. Please note that while all transactions are processed via PayPal, a PayPal account is typically not required to complete your payment — unless you are in a country where local regulations restrict access to guest checkout via PayPal (see FAQ below). To make your payment without a PayPal login, select the gray "Pay With Debit or Credit Card" option on the first page of the checkout process, then enter your credit card account details as instructed.
Club Lapel Pin
Available to full TCC members in good standing who have visited at least 100 countries and territories on the TCC list. Please select standard or tie tack backing.
$10.00
Award Level Pins
Select backing and award level you have achieved: Silver (150 countries), Gold (200) Platinum (250) or Diamond (300).
$8.00
50th Anniversary Pin
Commemorative pin from our 50th anniversary celebrations in 2004
$15.00
60th Anniversary Pin
Commemorative pin from our 60th anniversary celebrations in 2014
$15.00
Barcelona 2018 Pin
Special edition pin created for the 2018 TCC International Meeting held in Barcelona, Spain
$15.00
Engraved Name Tag With Magnetic Backing
NOTE: Please forward your order confirmation email to info@travelerscenturyclub.org and specify exactly how you want your name(s) to appear on each pin.
$13.50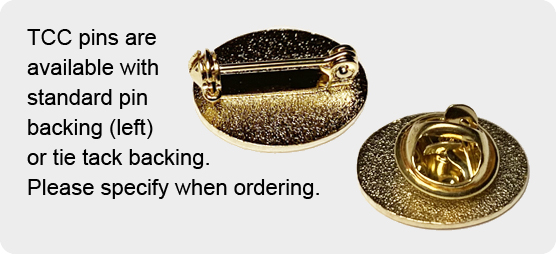 ---
Frequently Asked Questions About Online Payments
If you have questions or concerns that are not answered below, please e-mail the TCC at info@travelerscenturyclub.org before completing your payment.
I don't have a PayPal account. Can I still pay online for pins and name tags?
Yes — although local regulations in some countries might require you to create a free PayPal account and log in to complete your transaction. In most locations, when you click the yellow checkout button in the shopping cart, you will be directed to a page at PayPal.com featuring a gray "Pay With Debit or Credit Card" button; click this option to complete your payment without logging in as a PayPal member. If the "Pay With Debit or Credit Card" option is not displayed, guest checkout is not available at your current location, and you will have to create a free PayPal account to complete your payment online.
What should I do if I added incorrect items to the shopping cart?
Click the red trash bin icon next to any item to remove it from the cart.
Is this the only way to pay for TCC pins and name tags?
No. You may send us a check, or provide your credit card information directly to the TCC.
Is there an additional fee or service charge if I pay online?
The cost is the same no matter how you choose to pay. However, for payments from accounts not denominated in U.S. dollars, PayPal and/or the financial institution that issued your debit or credit card may assess a foreign exchange transaction fee.
Why is my payment going through PayPal?
Accepting online payments requires a credit or debit card processing service to verify the transaction and implement the transfer of funds between financial institutions. The TCC board has selected PayPal as our online payment processor because it is a leading international provider of online payment services, and we believe it is familiar to many of our members. Payments submitted via PayPal are transferred directly to the TCC bank account and are tracked by our normal accounting procedures.
Will the TCC keep my credit or debit card information on file?
No. All Web-based payments to the club are processed via PayPal, and the TCC will never have access to your credit or debit card account information.
Is your payment system safe and secure?
Opting to use any online payment platform is a personal choice. If you are concerned about the security of the PayPal online payment service, we encourage you to use an alternate method to pay for pins or name tags. Contact the TCC at info@travelerscenturyclub.org for details.